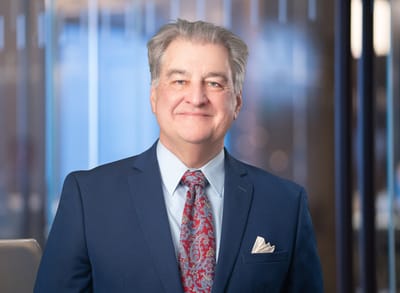 Attorney Kevin G. Diamond
kdiamond@rmdbllp.com
(508) 205-5500
Kevin G. Diamond
is a partner at Rico, Murphy, Diamond & Bean LLP, focusing on estate administration (probate), fiduciary and probate litigation. Kevin is licensed as both an Attorney and a Certified Public Accountant (CPA). Being both a CPA and an Attorney has made Kevin bilingual in understanding both the financial and legal worlds. He is admitted to practice in the U.S. Tax Court and both the Massachusetts federal and state courts.
For the past twenty years, Kevin has concentrated his practice primarily on wills, estates, trusts, and the litigation of family disputes in those areas. Working with individuals and families to preserve their wealth, their goals, and to pass on their dreams is Kevin's passion.
Kevin is a member and has been active in the leadership of the Massachusetts Bar Association (MBA). Over the years, he continually presents and/or publishes on the legal issues related to Wills, Estates, Trusts and Probate Litigation for such organizations as the MBA, Massachusetts Continuing Legal Education (MCLE), Massachusetts. Society of CPA's (MSCPA), the PIABA Legal Journal and numerous other organizations. One of Kevin's articles was published by nine state societies of CPA's. Recently, Kevin has become more aware and presented and published on the topic of "Elder Abuse: the Legal and Financial Exploitation of the Elderly".
Kevin attended Stonehill College. After earning his CPA and working for two prominent Boston CPA firms, Kevin chose to pursue law school. He attended New England School of Law at night while working initially as a Securities Fraud Investigator for the Massachusetts Securities Division dealing with issues including prosecuting frauds of all types, such as "insider trading"; filing false financial information; and several Ponzi schemes. Later while still in law school, Kevin became a bank fraud Investigator for the FDIC. In that capacity, he was responsible for determining civil and criminal liability in numerous failed financial institutions. He worked concurrent and as a part of the New England Bank Fraud Task Force with the FBI, the Secret Service, the U. S. Attorney's Office, and the Department of Justice, to prosecute bank fraud. With that experience under his belt, he focused his practice on tax, financial, and probate litigation as well as estate planning.
Kevin takes litigation cases on an hourly or contingent fee basis depending upon the client's needs. His cases have helped his clients recover millions of dollars. Kevin believes the success of the case is his involvement from its inception until its completion through settlement or judgment at trial. Kevin returns his calls and always has a free initial consultation to ensure that he can help his client and that they have the ability to work together to meet the client's goals.
Recognition
Volunteer of the Year Award from the Massachusetts Bar Association for his work on the MBA Centennial Fundraising Committee acquiring significant sponsorships for the MBA centennial celebration, September 2011.
Professional And Community Involvement
Massachusetts Society of Certified Public Accountants, Fellow
Massachusetts Bar Association, Member
Executive Management Board
House of Delegates
Finance Committee
Deficit Reduction Sub-Committee
Massachusetts Bar Association Taxation Law Section Council
Massachusetts Bar Association Probate Law Section Council
Public Investors Arbitration Association, Member
Judge to Statewide Mock Trial Competition for a Securities Case
Bar Admissions
Massachusetts
Federal Bar for Massachusetts
U.S. Tax Court
Speaking Engagements
"The Financial and Legal Exploitation of the Elderly", Presenter, National Association of Professional Geriatric Care Managers, February 2013.
"Whistleblowing: IRS, SEC, and the Fake Claims Act", Presenter, Sargent, McCoy, CPE, LLC, a three hour webinar for CPAs nationally, October 2012.
"Guardianship/Conservatorship under the New Massachusetts Uniform Probate Court", Merrill Lynch Wealth Management, May 2012.
"The Basics of Developing an Estate Plan", Program Chair, Massachusetts Bar Association, July 28, 2011.
"A Trust Series You Can Trust: A Comprehensive Guide to Trust Practice – Types of Trusts", Program Chair, Massachusetts Bar Association, March 29, 2011.
"What Every Practitioner Needs to Know About the New Tax Act", Program Chair, Massachusetts Bar Association, February 16, 2011.
"Drafting the Simple Will", Panel Member, Massachusetts Bar Association, April 27, 2010.
"Probating Real Estate Start to Finish", Program Co-Chair, Massachusetts Bar Association, April 6, 2010.
"Navigating the Madoff Recovery Maze", Massachusetts Continuing Legal Education, Panel Member, March 4, 2009.
Publications
"IRS Authorizes Paying Whistleblowers", Massachusetts Lawyers Journal, Vol. 18 No. 8, April 2011.
"The Deductibility of Investment Theft – Part I", SumNews,Vol. 19 No. 5, Fall 2008.
"The Deductibility of Investment Theft – Part II", SumNews,Vol. 19 No. 6, Winter 2008.
"The Madoff Mess", Taxation Law Section, Massachusetts Bar Association, Section Review, Vol. 11, No.1 , 2009.
"A Primer on IRC Section 165(c)(2)", PIABA Bar Journal, Vol. 14, No. 4, Winter 2008.
Education
New England School of Law, Boston, MA
Juris Doctor
Stonehill College, North Easton, MA
Bachelor of Science in Business Administration
Representative Experience
Successfully settled a 40 year old shareholder claim for $4.5 million under a confidentiality agreement.
Represented one of only 84 families that filed litigation from the Terrorist Attack on September 11, 2001 and settled under a confidentiality agreement.
The PW Investigation – this investigation resulted in the negotiation of a $2.34 million dollar settlement with a broker dealer in relationship to 14 failed banks.
Successfully defended a $4.2 million will contest. Varnum et al. v. Colella, Mass. Middlesex Probate Court Docket Nos. 08P5513EP1; 09PO582EA; and 09E0073GC
.